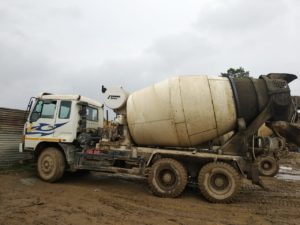 Transit mixer is a construction equipment which is used to transport the concrete/mortar or ready-mix concrete material directly from a concrete batching plant to the place/site where it is to be used for construction purposes. Both dry material and water are loaded in the Transit mixer machine.. It has a spiral blade which can be rotated in either directions. Transit mixture  enable flexibility to get a medium amount of concrete production happening close to the site of application.  Basically these are special types of transporting trucks which maintain the liquid state of materials by the rotation of drum until the material is delivered.
The clockwise movement helps the drum to be charged with concrete and anti-clockwise helps drum to discharge the concrete out. The drum rotates on its own axis for ensuring the liquid state of materials. Transit mixer machine is used in many types of projects and delivers concrete for constructions of multi-story buildings, highways, dams, bridges, factories, airports etc.
BS Thakur Constructions is backed by a proficient team of professionals who are able to offer wide range of Transit mixers for rental in Chattisgarh. The machines are made of superior quality raw material and have varied capacities. BS Thakur Constructions has products which deliver robust construction and TM rental service is a no exception. Our trade practices have helped us to gain optimum trust from client and also full satisfaction.
The transit mixer TM procured by us is always in a proper working condition and very helpful in fulfilling the needs of any industry vertical where it is used. All TM machines we have are fully tested and certified for working safe. We have fully trained professionals who can help in smooth operation of the machine rented. Feel free to contact us anytime for availing Transit mixer on rent.