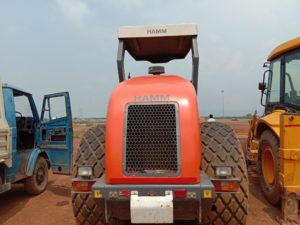 BS Thakur Constructions provides the best quality Roller compactors for rent in Chhattisgarh, Madhya Pradesh, Odisha and Jharkhand for construction and other purposes. On time delivery, best prices and supporting staff are the key advantages you will get with us. Roller Compactor which is also called Road roller is a type of construction machinery equipment used to compact soil, concrete, asphalt or gravel during the road construction and foundations. These rollers are also used in landfills or in agricultural purposes.
Roller compactors use the vehicle weight to compress the surface to be rolled or they use vibrations for the purpose. There are various types of rollers which are used mainly for compacting work and their uses depend on what type of job you have on hand.They are cylinder rollers, vibratory rollers, Rubbed tyred roller, tamping roller and others. Cylindrical rollers are the most common today.
BS Thakur Constructions is the best Roller Compactor rental services agency which offers a comprehensive range of Roller Compactor rental services. Our rollers are widely used on the construction sites and we offer instant booking of roller compactors and timely transportation of our rollers to the construction site.
Our approach is client-centric and we offer hassle free management. Other details of our rental services are- Execution of service as per Govt norms, high flexibility, offering best quality of the machines and customization of the services as per the requirement of customers. Our rollers are always tested on some standards before final delivery to the customer. Periodic maintenance, service and good-handling is done for all the assets we have. Excellent finish, high load handling capacity, corrosion resistant and high tensile strength are the features of the roller compactors we provide for rental.
Summing up:-
Although, there are many roller compactor rental services in Chhattisgarh, BS Thakur Constructions is the best provider and has established a good name due to satisfied customers! If you are looking to hire roller compactor anywhere in Odisha, Madhya Pradesh, Jharkhand and Odisha, then feel free to call us anytime.