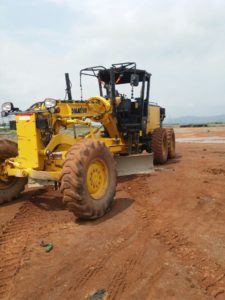 BS Thakur Constructions is a leading provider of Motor Grader rental services in Chhattisgarh, Madhya Pradesh, Odisha and Jharkhand.
Motor grader also called road grader is a construction equipment machinery which is used for building a smooth and flat-wide surface. The most common use of motor grader is road maintenance for dirt and gravel roads where it is used to flatten the surface before applying asphalt. With time, motor grader expanded in functionalities and now it is used in earth moving, fine grading and spreading.
What makes motor grader versatile is the ability to use various types of attachments in it and can then be used to do many things. Examples of attachments are ripper, blade, compactor and others.  Today there have been a number of technological innovations which have changed the graders outfit with control technologies.
Motor Grader machine has also an option known which is known as scarify option. With the help of that option it scarifies (makes shallow cuts) in the underlying layer and then use blades to remove that layer. Then a new layer is made by spreading other soil .
The leading Construction machinery rental services firm BS Thakur Constructions provides the best Road Grader rental services in raipur Chhattisgarh, Madhya Pradesh, Jharkhand and Odisha.
Motor Grader can be used today for the following functions –
As an earth moving machinery for digging and moving larger amount of soil from one place to another
Soil leveling which is spreading the next layer uniformly on the surface
Scarifying as discussed above
Mixing of two materials, spreading of soil or other aggregates
Achieving a desired slope which is called land grading
Trenching, Ditching etc
Motor Grader is also the most suitable machine to be used as a snow removing machine in places where snow fall is higher.
If you are looking for a reliable road grader to hire in Madhya Pradesh, Chhattisgarh, Odisha or Jharkhand for completing your roadway project or any other use discussed above, you are in the right place! Feel free to call us to know about the availability and price details.