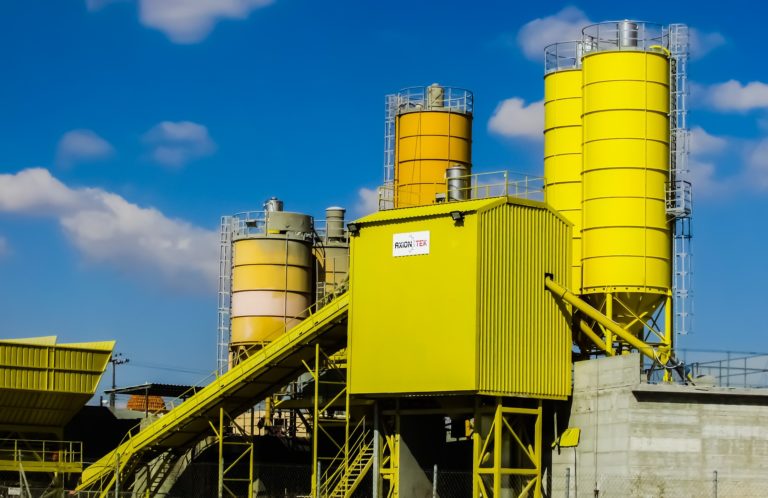 Batching Plant hire in Chhattisgarh, Jharkhand, Odisha, Madhya Pradesh.
BS Thakur Constructions is a fully reliable company engaged in providing concrete batching plants for rental for our esteemed clients anywhere in Chhattisgarh, Odisha, Madhya Pradesh, Jharkhand. The plant we offer can be used for the production of different kinds of concrete which can be suitably used in wide range of applications like road and bridge construction, medium and large size building works and many others. The batching plant we provide is of best quality in the market and are highly demanded in the area we serve. We always double check the construction machinery before sending it to our clients.
In a batching plant, concrete is manufactured in calculated bathes inside the plant. It is prepared on the basis of various formulas which is a proportion of various raw materials like Cement, crushed stone, water, sand, Admixture chemicals and others. A batching plant has various parts and accessories which include mixers, cement batchers, aggregate batchers, aggregate and cement bins, stackers, heaters, chillers, cement silos and plant controls. They also have dust collectors which help in minimizing the pollution of the environment.
With all the knowledge of the commercial industry, BS Thakur Constructions is fully engaged and committed to provide high quality Batching plant on Rent in Chhattisgarh, Madhya Pradesh, Jharkhand, Odisha. We have been able to meet the needs of dozens of customers needs within the given period of time.
The services provided for batching plant rental are delivered under the guidance of expert and talented executives. These services can also be modified to match the desires of our esteemed customers. Within a few years our organization has gained a lot of reputation in providing Batching plant rental services in local as well as other areas in the state of Chhattisgarh. We render our services in a hassle free manner and we are always backed with talented team of professionals.
Take advantage of our more than 30 years of experience in the construction industry. If you are looking for Batching plant rental services in at the most cost effective prices, then feel free to contact us!